About our sunglasses
...all things tinted, polarised, mirrored & TRANSITIONS® lenses
Sunglasses are an essential part of your wardrobe. Whether it's for a bright summer day or to protect yourself on a snowy winter break – you could find yourself reaching for your sunnies, no matter the time of year. So, it's best to get a pair that'll always work for you.
At Superdrug, we offer a range of stylish sunglasses in various tints, with polarised and light reactive options available too. Whether you're looking for prescription or non-prescription sunglasses online - welcome to your guide on all you need to know about our sunglass lens options, all of which have 100% UV protection.
Tinted Lenses
You can keep it simple with a tinted lens. These are permanently tinted and block out 100% of that harmful UV light.
Our tinted lenses are available in brown, grey, and green. These hues give the greatest colour definition so objects should look natural when looking through them.
Brown tint
As a warmer tint, this is a popular choice for general purpose sunglasses. A brown tint increases the contrast between blues and greens, like grass and sky, making it an especially good choice for golf.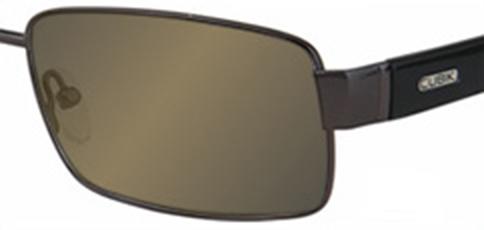 Grey tint
This is our most popular choice of tint for those wanting to reduce brightness while still maintaining good colour recognition, so a good option for driving.
Green tint
This is another good choice for general purpose sunglasses. A green tint will improve contrast and maintain colour recognition.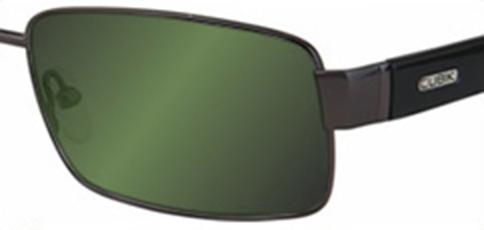 Select your preferred colour and you can choose between our light tint which is 50% or our dark tint is 80%. Or, if you require a different level of tint, perhaps very light or very dark then please email us at support@glasses.superdrug.com directly after ordering and we can adjust this for you.
Photochromic Lenses
Photochromic lenses or light adaptive lenses are pretty clever!
Simply put, Photochromic, also known as 'light adaptive' or 'reactolite' lenses are activated when exposed to UV light, transforming clear lenses to a darker lens. The lenses are fully clear in indoor environments and at night but darken to varying degrees when outdoors where UV light is present. These lenses offer full UVA and UVB protection.
We also offer "Transitions® lenses" which are the leading brand for these kind of lenses Worldwide. (Transitions is a registered trademark of Transitions Optical, Inc., used under license by Transitions Optical Limited.)

In general Photochromic lenses are quicker to darken than they are to fade. So, suddenly going from bright sunlight to indoors will take a minute for the lenses to fade to clear. These lenses need UV energy to react, so they don't work very well in the car

Photochromic lenses continuously adapt to the changing light conditions so you can be sure that your lenses will always be perfect for your surroundings, and not have to worry about having a separate pair of sunglasses to hand.
Superb value photochromic lenses
We offer a great value photochromic lens that is ideal for those on a budget.
Alternatively, as stated, you can choose our Transitions® lenses branded option.
Transitions® Signature VII Lenses

Transitions® lenses are the leading brand of light adaptive lenses available. Even in hotter temperatures, this light adaptive lens will adapt and provide you with reduced glare and comfortable vision.
Please note: Photochromic lenses are quicker to darken than they are to fade and do not work behind car windscreens that block UV light.
Polarised Lenses
We recommend trying polarised lenses in your next pair of sunglasses, the different is amazing! Here's why…

Polarised lenses work to block reflected light and irritating glare from reaching your eyes. While normal tinted lenses generally offer 100% UV protection and make things look darker, polarised lenses offer a whole other level of protection and block virtually all glare.
How are polarised lenses better than standard tints? A standard tint will reduce the amount of light transmitted through the lens in both the horizontal and vertical plane. A polarised filter will absorb the horizontal light waves but allow the vertical ones to pass through. So, a polarised filter will eliminate glare and improve depth and colour perception. See below for a visualization of the effect:
In both summer and winter, wearers will find they have better vision under most circumstances, with colours appearing more vivid than with normal sunglasses, enhanced detail and reduced eyes strain! Polarised lenses are great for driving, particularly if you suffer with glare from the road surface. They are also particularly useful for water sports, such as sailing and fishing, and winter sports.
We offer 2 standard polarised colours, Brown or Grey.
Mirror tints
Mirror Sunglasses are totally on-trend due to their uber-trendy colours. But aside from the fashion appeal, this type of tint also packs a punch on functionality. The mirror element of this tint is a reflective coating on the outer layer of the lens, which works by decreasing the amount of light that passes through the lenses and into your eyes. As a result, you will feel more comfortable and be likely to have less eye strain than wearing tinted lenses without a mirror coating.
Mirror tints are ideal for people who are light sensitive or exposed to bright conditions such as sea and snow.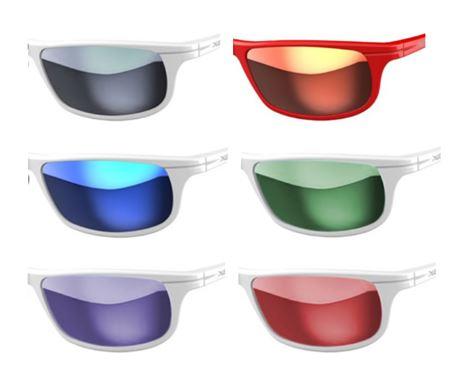 We offer 6 mirror tint colours, Silver, Gold, Blue, Green, Purple and Red.
We highly recommend you give one of them a go!