Frame adjustments
Unless you're channelling your inner sultry secretary, having to push your glasses up your nose 100 times a day can get pretty annoying! The same with your sunglasses, you don't want to be rockin' your cutest sunnies on a beautifully bright day and find them continuously slipping down your nose!
So, if you want to avoid this from happening, check out this handy guide on how to adjust the arms and nose pads on your frames without having to make a special trip to the opticians. It's pretty simple and all you will need is a hair dryer, your glasses and just a little bit of time.
My glasses feel loose!
If your glasses feel loose on your face, you will need to adjust the arms slightly. Take your hairdryer and heat the frame up a little bit and bend the arms towards each other or around the area of the bend by your ear. Just a slight adjustment should make them feel snugger on your face.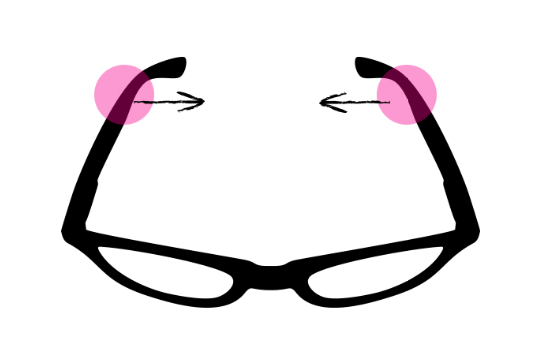 My glasses are crooked!
Lopsided eyesight isn't a good look! If one of your lenses is sitting higher than the other, then you'll need to adjust your frame. Heat up the frame a little and bend the arms downwards. You should do this at the hinge or the bend by your ear.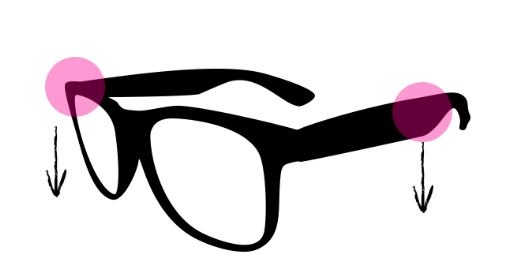 My glasses are sitting too low!
If you need your glasses to sit higher up your nose, you need to adjust the nose pads. Simply use your thumb and fingers to push the pads towards your nose until you find a comfortable fit.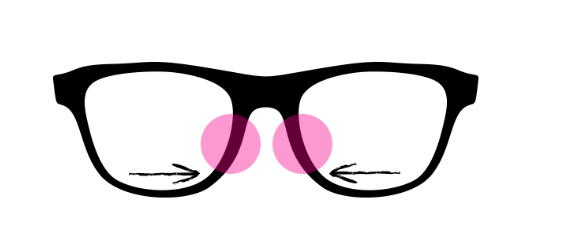 Ouch! My glasses are pinching my nose
If your glasses are pinching your nose, they are probably also leaving those little red marks either side of your face too.
To stop this from happening, hold your frames securely and with your finger and thumb adjust the pads away from your nose until you find a comfortable fit. Try the glasses after adjustment to make sure you've found the perfect fit. Goodbye red marks and uncomfortable specs!