How to adjust your glasses when you can't see an optician
Created for Superdrug Glasses Online by Emily Venables
If your glasses are not 100% comfortable on your face, it can be rather annoying. Afterall you can feel them, you can see them, and for many people, they are an everyday essential.
So, what do you do when you need to adjust your glasses, but you can't visit an optician? You fix them yourself of course!
Read on to find out how to fix 5 common problems by yourself in the comfort of your own home.
1. Your glasses pinch your nose
Glasses that pinch your nose are not only incredibly irritating, but they can cause headaches in the long run so it is best to adjust them as soon as you can.
If you have metal-framed glasses, widen the nose pads with your thumbs until they sit comfortably on your face.
If your glasses frame is made of plastic, then you will need to soak the arms in warm water for 30-60 seconds, or heat gently with a hair dryer. Once you have done this, gently apply outwards pressure on the end of the arms so they fit more comfortably on your face.
2. Your glasses are sliding down your face
If you were to count how many times a day you push your glasses up your nose, are you likely to lose count? If so, you need to adjust them and again, it is easy to do so.
With metal-framed glasses, simply apply inwards pressure to the nose pads to tighten the gap so they no longer slip down the face. If you have plastic-framed glasses, you will need to slightly warm the arms up again for up to a minute, and then apply downwards and inwards pressure to tighten the fit - this should prevent them from slipping.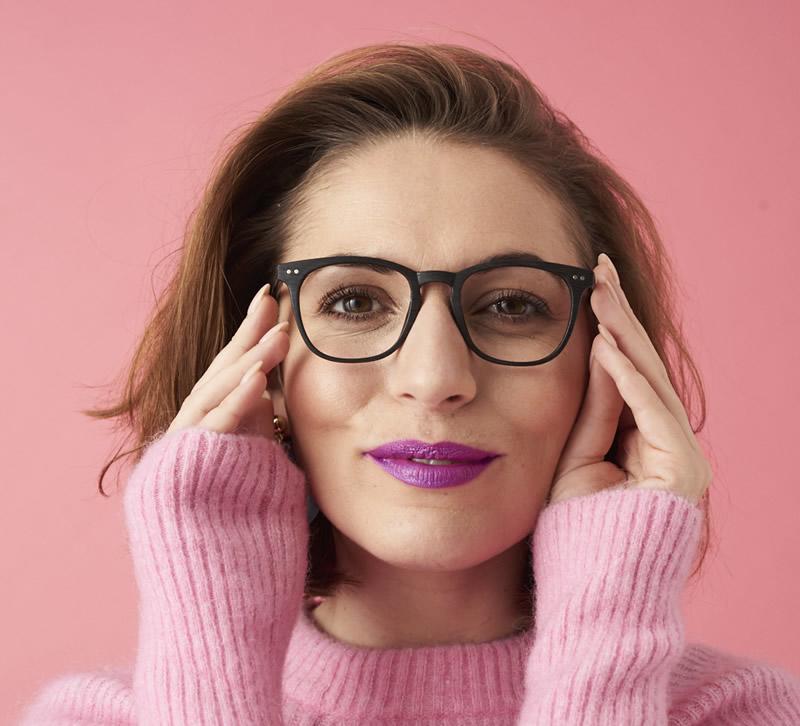 3. Your glasses feel too tight for your face
When your glasses are too tight on your face, they can cause pressure on your temples leading to headaches and a very uncomfortable day!
To release the pressure and for a snugger fit (on metal frames only) apply very gentle outwards pressure on the area between the hinge and your lens. Again, be very gentle when doing this and it should create a looser fit. Don't forget to repeat the process on the other side.
4. Your glasses feel tilted
If you're seeing the world through slightly lopsided glasses, we don't think you're going to get very much done! Try heating the frame a little and bend the arm downwards to correct tilt – this should be done at the hinge or the bend by your ear.
5. One lens is closer to your eye
Do your eyelashes touch one side of your glasses and not the other? Or do your glasses feel slightly off due to one side being closer to your eye than the other? If so, gently heat the frame and then bend the arm of the lens that is closest to you inwards and the other arm outwards. That should do the trick!
When should I see an optician?
Of course, not all problems with glasses can be fixed at home. For example, if you're having a problem seeing through your glasses then it may be time for a new prescription. Or if you have particularly fragile glasses such as rimless frames. Use your best judgement, and if in doubt - give your opticians a call!