What Are Blue Light Glasses
What is Blue Light?
Blue light comes from multiple sources, including the sun, but the one you are probably most aware of is artificial light from digital devices (such as phones, tablets, and computers) and fluorescent or LED lighting.
However, the light emitted from modern technology is only a fraction compared to what comes from the sun, which is the largest natural source of blue light.
You may have heard of and be aware of the effects of the suns UV rays, but it also contains a spectrum of coloured rays, including red, yellow, orange, green, and blue and when combined these make up 'white light'. Rays within the blue spectrum have a shorter wavelength and more energy and are thought to have both positive and potentially negative effects on us.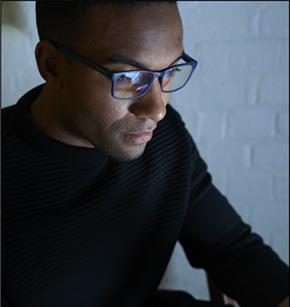 What are the Potential Effects of Blue Light?
Blue light has earnt itself a fairly bad reputation; however, blue light is vital for our everyday health. It can elevate our mood, and when exposed to the right type of blue light throughout the day, it can help maintain our circadian rhythm, which is a natural process that helps regulate our sleeping patterns. So far, so good!
However, due to the short wavelength of blue light, it is also known to penetrate the eye with ease. And some people believe this can lead to issues such as digital eyestrain, interruption to our sleep pattern and longer-term eye health risks. There is currently significant research underway into these effects which we are following closely here at Glasses Online.
Blue Light Glasses at Superdrug Glasses Online 
Blue light glasses can effectively filter the amount of blue light which enters your eyes, and at Glasses Online you will find two lens options if you are looking to reduce the effects of digital screens - the UVBlue and UVBlue + lens.
Unlike many other blue light glasses on the market, our UVBlue and UVBlue + lenses have the blue light filter built into the lens material itself, as opposed to blue light coating. This approach enables the lens to filter out a proportion of blue light energy, as well as protecting your eyes against UV rays. You don't have to have a prescription to benefit from our blue light lenses, you can also order them without one.
The two lens options do differ slightly from one another. With the UVBlue lens, you get all the great benefits mentioned above, but with the UVBlue + lens you also get a multi-layer anti-reflection coating that filters out an extra portion of blue light, and it also has a slightly blue hue to the lens.
If your lifestyle means you are regularly exposed to artificial light, or you spend long periods focusing on a digital screen, then you could benefit from blue light lenses.
If you are looking for a ready to wear pair of blue light glasses, why not check out the Ocushield range. These are the ideal solution for those without a prescription or contact lens wearers.
To find out more about all of the blue light glasses options available at Superdrug Glasses Online, visit our blue light glasses main page.