Top Celebrity Festival Looks: Coachella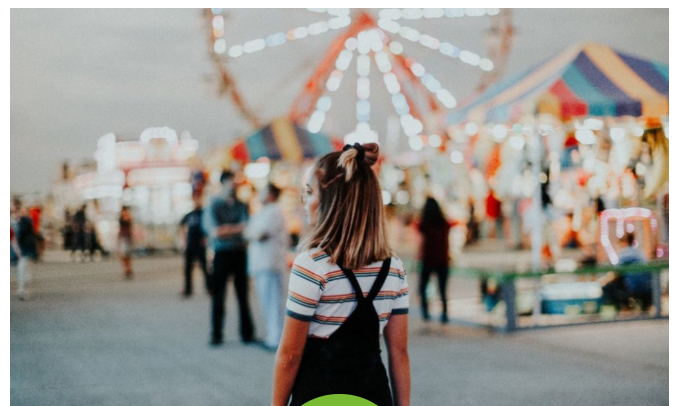 Festival season is just around the corner and since Coachella in April, our feeds have been filled with boho vibes and summery snaps. Festival style is all about mixing that laid-back weekend-of-fun feeling with some sassy staples and letting your individual style shine through.
If you're heading off for a weekend of music this summer and looking for some outfit and eyewear inspo, look no further! Every year celebs set the tone for the season at Coachella and give us major eyewear envy, here's a collection of our faves from this year.
Kendall Jenner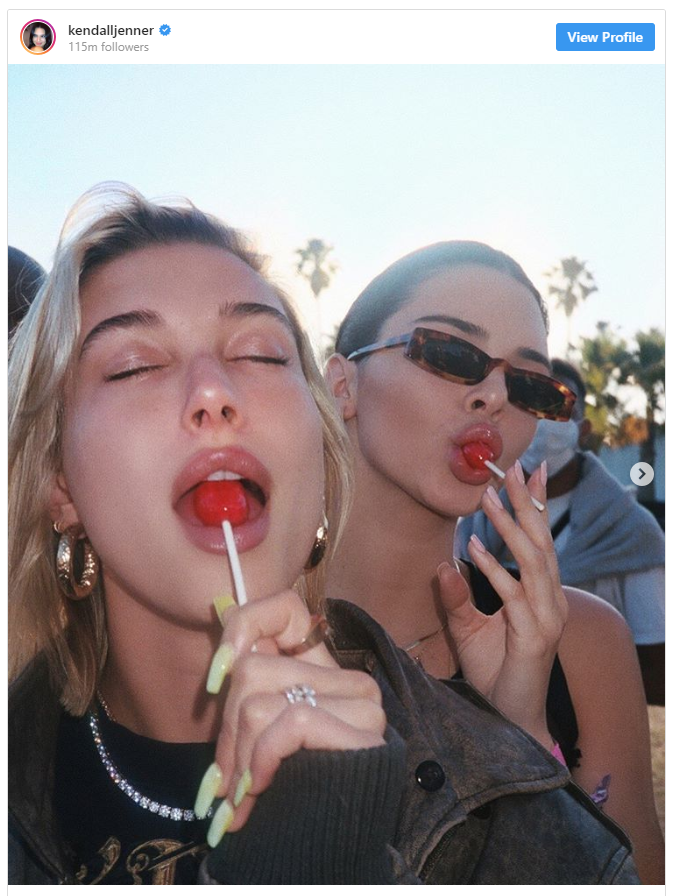 Here, Kendall looks effortlessly radiant and off-duty chic, with palm trees in the background that are just so Coachella.
She's keeping her look simple with a sleek updo, perfectly sculpted brows and some micro shades, making this a go-to look for any festival goer. The micro shade trend is definitely here to stay being spotted on countless celebs this year so far, including the likes of Bella and Gigi Hadid aka, style royalty. This trend is easy to rock too since the frames are small and simple, all you need is a bit of attitude. 90's fashion throwbacks have been everywhere this year and micro shades are by far the easiest way to get the look.
To get that micro shade look, try a rectangular shaped lens and tortoiseshell design with a lens that is dainty enough to fit the micro shade bill, whilst still protecting your eyes from the summer sun. This will make a great match for Kendall's and makes for easy styling with most skin tones and outfit choices. Forget the old micro bag trend, micro shades are chic and practical- definitely one to pack this festival season.
Alessandra Ambrosio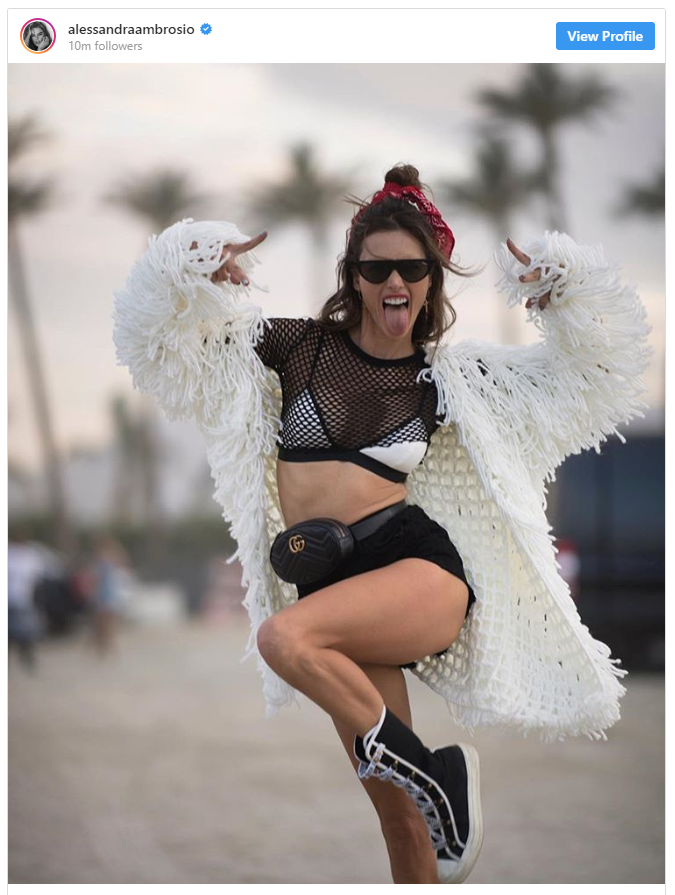 Alessandra Ambrosio is the Brazilian beauty who took the Victoria's Secret catwalk by storm, establishing herself as one of the best-paid and most beautiful models in the world. Although she hung up her wings last year, Alessandra isn't going anywhere and with style like this, we can't wait to see what she does next. At Coachella, Alessandra sported some amazing model-worthy looks, but this edgy monochrome look is definitely our favourite!
Take some inspiration from Alessandra and experiment with different textures, cuts and detailing while keeping your colour palette simple. The oversized jacket and punk-rock flats keep the look comfy all day long, while the trendy touches like a waist bag and sheer mesh crop top show off your styling chops. Finish the look off with some equally edgy shades like an angular cat eye lens, you're sure to stand out in the crowd.
Shay Mitchell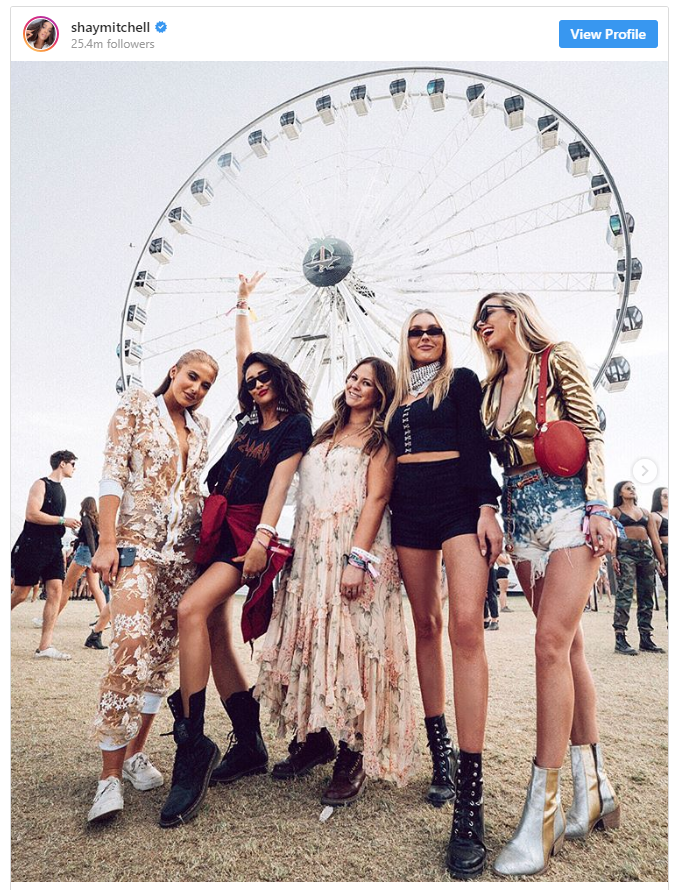 If this doesn't have you longing for summer, nothing will. Shay Mitchell and her friends just couldn't miss the opportunity to take the iconic Coachella Ferris wheel snap and who could blame them, nothing says 'festival season has begun' quite like it. Shay and her friends are rocking a variety of festival-ready ensembles here, but clearly short shorts and boots are a winning combination this season.
Although Shay found fame through her role in Pretty Little Liars, her social media presence is like no other. If you want the inside scoop, check out her Youtube channel documenting her 'Shaycations' all over the world, her Coachella experience and loads more. There aren't many celebs willing to bring you fresh content every week and Shay's channel delivers everything from fashion and lifestyle, to travel and makeup videos.
We love Shay's look above with a classic band tee, black shorts and black boots- effortlessly cool. She dresses up the outfit with a pop of lippy and some all-black shades. Perfect for festival goers, a simple black frame is flattering on any face shape and pair effortlessly with any outfit. Just don't forget to pack the short shorts!
Rita Ora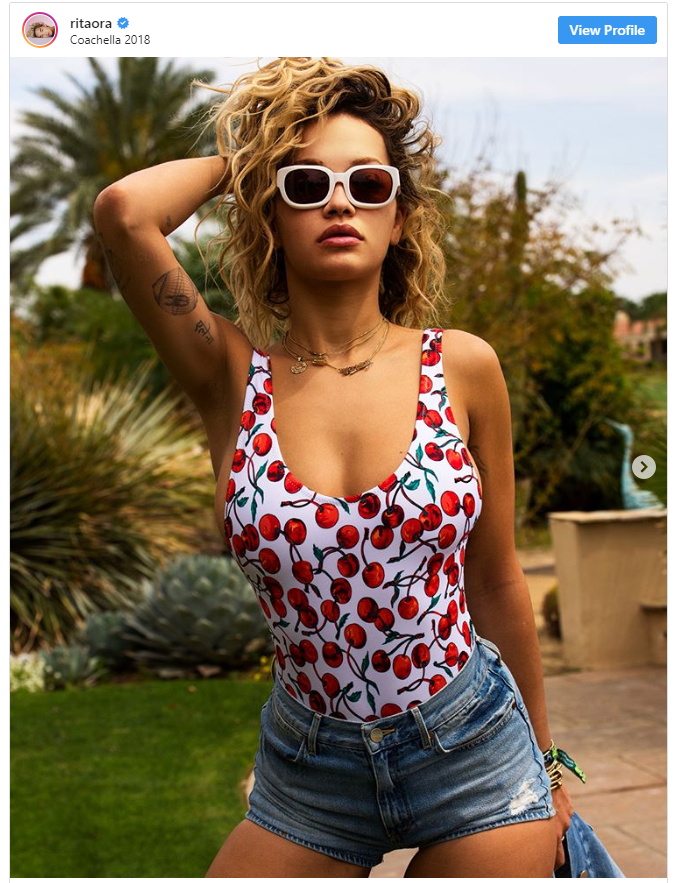 Here Rita Ora is rocking an oh-so-retro look with her bodysuit tucked into her denim shorts and some chunky white shades. Who doesn't love a bit of 50's style?
This is a fab outfit to pack for any festival, shorts are ideal for staying cool and comfortable from set to set and you can just switch your top as needed. This simple look will work well all weekend, even with the temperamental British weather. Rita's retro shades really complete the look and enhance her golden skin tone.
Pop a thick white frame and dark lens on to make the perfect match for her shades. With these on, with any look, it will add a retro twist and to give a natural glow to your skin- effortless and ideal for the festival season!
Are you headed off to any festivals this year? What are your packing must-haves?