Our prescription lenses
Got your eye on a trendy new glasses frame, but wondering which lens type will suit your needs the best? Fear not, we're here to help with our guide to prescription lenses and coatings. Read on for everything you need to know and if you're looking for information about our sun lenses (tints, polarised, TRANSITIONS® lenses, etc), please see here.
Please note, any images displayed are for illustration purposes only.
Single vision lenses
If you need glasses to perform just one job for you, then single vision lenses are the way to go. Single vision lenses contain a single prescription over the whole lens area so wherever you look through the lens, you will have the same power. They are suitable for all types of uses including reading, computer work, long-distance use and general day to day wear.

Distance lenses for driving / TV, general use. *Those under 45yrs old maybe able to read quite happily in these too.
Intermediate lenses for computer use. Make sure you select your Inter Add when ordering.
Reading lenses for close work and reading text. You will need to enter your reading Add when ordering.
Bifocal lenses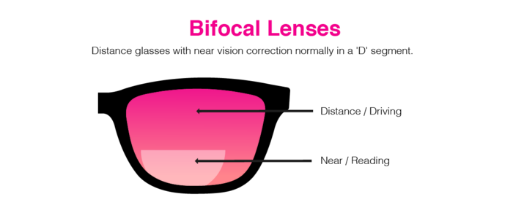 If you want your glasses for both distance and reading and want the convenience of being able to do both with just one pair, these are the lenses for you. The upper part of the lens is for distance vision and the bottom segment is for near vision. You will see a visible line separating the two segments.
Our bifocal lenses are D28 Flat Tops, which are the most used bifocals at present. This lens has a reading segment shaped like a "D", with the flat edge of the D facing up. The diameter of the near vision segment is 28mm.
So, Bifocal lenses will give clear vision for distance and close viewing but if you also need to see clearly for a middle distance, for example a computer screen, then you should consider a varifocal.
Varifocals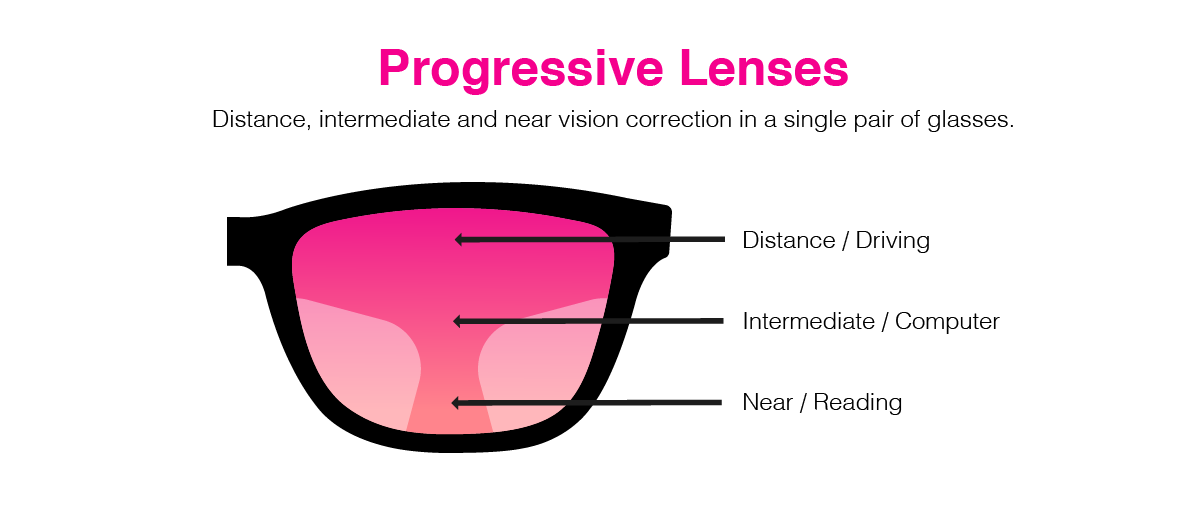 Varifocals will provide that clarity at middle distance that a bifocal lacks. It also has no visibly distinct zones when people are looking at your glasses. So if you dislike the idea of bifocals as other people would know you are now needing a little help with reading then a varifocal is the ideal choice.
Although we refer to the 3 areas of clear vision in a varifocal (distance, intermediate and near), they actually have a smooth progression of power all the way from your distance to near prescription. This means there will be a part of the lens that should precisely focus for any task required.
There will be a corridor of clear vision as you head down through a varifocal lens. Vision through the peripheral areas of the lens will not be as clear as looking through this central corridor. The diagram above will give you an indication of the width of corridor for each area. Premium designs will offer wider channels of clear vision.
We offer 2 varifocal types for you to choose from:
Premium varifocals
Modern life has high expectations on our eyes, and we would all like the convenience of having one pair of glasses to fulfill them all.
This is an advanced soft lens design for everyday use. The lens design offers wide vision for all areas and comfortable transition between near and far vision. So if it's a long day in the office followed by some sport and checking the internet, this could be the ideal lens for you.
Elite varifocals
This lens uses Digital Ray-Path® technology, to create a unique lens for each wearer, that provides better vision in every zone of the lens, making adaptation time short. The lens is tailored to your individual prescription and it takes into account the natural rotation of the eye and the real position of the spectacle lens, giving improved vision in distance, intermediate and near zones.