Which lens thickness?
When it comes to choosing your lenses, it is the refractive index of the lens that is most important. The higher the refractive index of a material, the thinner and lighter the lenses will become – good news!
Standard 1.5

index
Our standard 1.5 index CR39 lenses are plastic and suitable for general purpose. These lenses offer outstanding optical quality and durability.
You will get these lenses FREE as standard in our Bronze lens package.
Recommended for:
Prescriptions with sphere values from Plano to +/-3.00.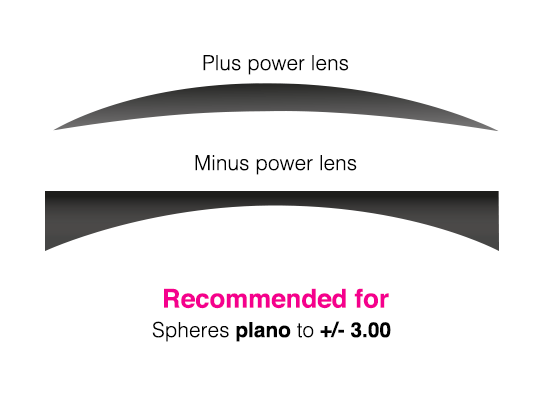 1.6 Index Lenses
1.6 index lenses are thinner and lighter than 1.50 index lenses, enhancing the appearance of your eyewear by up to 20% in comparison with 1.50 index lenses and are ideal for full rim or semi-rimless frames.
Select our Gold lens package when customising your lenses and you'll also get a Hard, Anti-Reflection coating with UV protection.
Recommended for:
For prescriptions with Sphere values around +/- 4.00.
1.67 Index Lenses



This type of lens is particularly useful for those people with higher prescriptions. These high index lenses are manufactured with an aspheric surface design resulting in a flatter front curvature and a remarkable reduction in centre thickness, edge thickness and weight by up to 30% compared to 1.50 index. Perfect for all frame types.
Select our Gold+ lens package for this 1.67 index lens.

Recommended for:
Prescriptions with sphere values around +/-4.25*.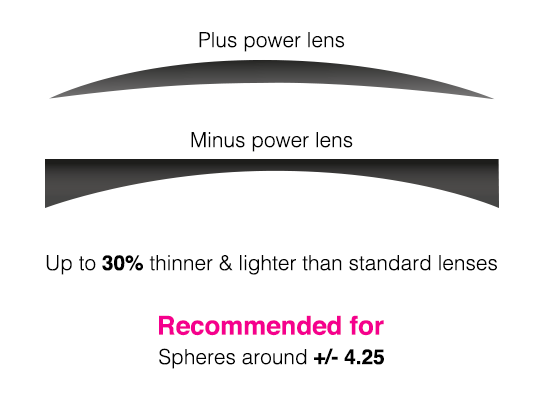 1.74 Index Lenses



Designed for high prescriptions, these lenses are extremely thin and light, delivering tremendous optical quality due to an aspheric design. It's one of the thinnest and flattest plastic lenses available, which are astonishingly up to 40% thinner than 1.50 index lenses. This thinner lens is much more flattering, reducing the distortion that high prescriptions cause when made with lower index lenses.
Treat yourself to 1.74 index lenses by selecting our Platinum lens package

Recommended for:
Prescriptions with sphere values above +/-4.25*.
Not recommended for rimless frames.